In an effort to get away from the screens that plague our everyday lives and bring some fun back into recreation time, you might be looking for an activity to try out. Whatever you invest in has to be affordable, fun for family and friends of all ages, and enough of a challenge that you're actually excited to play.
This is no longer listed on amazon.
Please check here for updated listing
Foosball has been a classic game played around the world for decades, and whether you got inspired to get one after watching Joey and Chandler play it on Friends or saw how fun it could be at your local games arcade, there's no denying these tables provide hours of entertainment.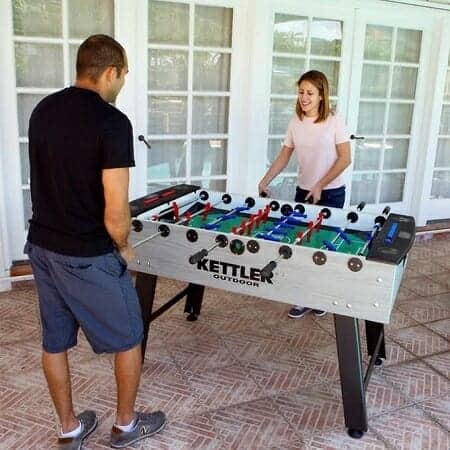 Finding a quality foosball table can be hard to do though, with so many models out there that just aren't made to last. On the other side, a quality foosball table shouldn't cost thousands to invest in either, so finding the middle ground can be even tougher.
Kettler has released a foosball table that ticks these boxes and more, giving you a chance to bring the fun into your own home. If you've been looking for a new way to entertain the masses, this could be the answer you've been searching for.
About The Product
Kettler is a name synonymous with leisure. Their range of products includes everything from recreational activities to leisure furniture and everything in between. They pride themselves on making reliable, affordable, and high-quality goods that everyday people can enjoy in their homes.
The Montecristo Outdoor Foosball Table is one of their top sellers because it offers everyone a chance to get one of these great pieces for their home. Made solid to endure outdoor use but also stylish enough to keep indoors, the choice is yours for how and where you use it.
Made from quality materials and in a cool design, there are so many great features available with the Kettler Montecristo Outdoor Foosball Table. Here's just some of what it offers:
Unbreakable players are molded onto the rods for strength
Built-in floor levelers for all surfaces
Outdoor cover to keep from weather damage
Colored resin score counters to keep track of winnings
Integrated ball drop for fair play
Side and corner rails are sloped to prevent dead spots
This foosball table would suit so many different homes or spaces, including college dorm rooms, pool areas, man caves, dens, patios, and more. Anywhere that people like to socialize and have fun is a good enough setting for this table.
Pros And Cons
The Kettle Montecristo Foosball Table has been designed to work both outdoors and indoors. This means far more freedom for where and how you play it. It's more durable than most and comes with an outdoor cover so there's no need to worry about it becoming damaged.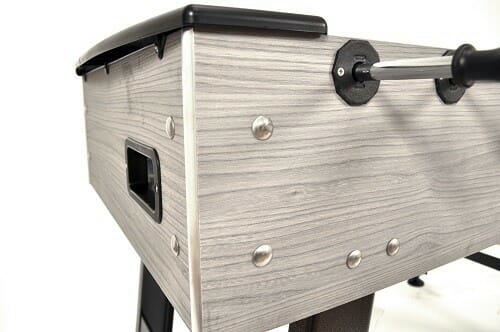 Another great addition to the Kettle Foosball Table is the sloped edges and sides. Usually, when you're playing foosball, the ball can get stuck in these corner spaces and become a dead ball. This ensures the ball stays in play fairly and without having to intervene.
One downside to this table is that the setup is quite intense. If it's available to you, it's far better to pay for a service that can put it all together. Otherwise, you might spend hours trying to assemble it and still not have it done correctly.
In terms of price, this is pretty decent for the high quality of the table. There are cheaper tables available of course, but they're flimsy and won't hold up for very long, especially if you plan on using it quite regularly. For less than $1,000 it's hard to get something made like this, which makes it very attractive indeed.
Where To Buy Your Kettler Foosball Table
If you're looking to inject a bit of fun into your life and think the Kettler Foosball Table is the way to do it, you can grab it for a discounted price through Amazon. Currently, they have this outdoor foosball table available for around $900 which is excellent value for some of this build.
For this price, Amazon will also ship the table straight to your door which saves you hundreds of dollars in freight costs. Some users will also have the option to pay extra and have the table constructed, so depending on your handyman skills this might be a smart extra to take.
These tables come with a one-year factory warranty which includes all of the parts. However, if you're using it outside and keeping the weather cover on it then there's no reason it won't last your home more than 10 years, maybe even more.
The Kettler Foosball Table comes with balls, but some people like to buy spares just in case they go missing. You can also do this through Amazon and there's no need to get the Kettler brand either as most standard balls will fit. Other backup supplies that could come in handy are additional rain covers or anything else that you might want to add to your gaming room.
Final Verdict
The Kettler Outdoor Foosball Table is built tough and has plenty of innovative features that improve gameplay. Foosball tables can provide hours of entertainment each week and get everyone away from the screens and technology, so they're a great investment for the whole family.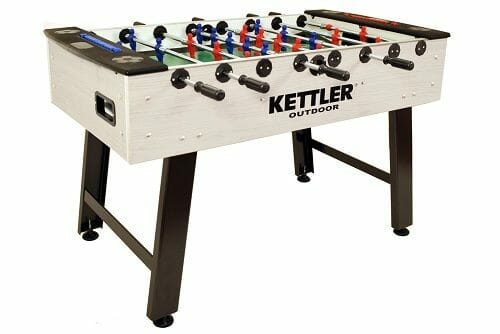 There are plenty of great foosball tables out there if you're willing to spend a few thousand dollars, but that budget just isn't realistic for everyone. To get yourself the durable and high-quality Kettler Outdoor Foosball table and save yourself a lot of money, click here to grab one today.