Let's face it, if you are like most people you are looking for a source of entertainment that the entire family can enjoy. While it can be fun to veg out and watch a movie or television once in awhile, chances are that you want something a bit more active for you and your family to be able to do together.
One great source of family entertainment is a foosball table. These tables can provide you hours of entertaining fun right in the comfort of your own home. I personally enjoy a good game of foosball and for this reason I want to help you find a quality table to use in your home game room, basement, or bonus room.
This particular review is going to cover the American Legend Charger foosball table .
I have based this review on a thorough evaluation of the capabilities and features that this soccer table has to offer. Hopefully this review will help you make an informed decision about purchasing a soccer table for your home.
About American Legend Charger Foosball
Specifications:
Measurements: 52 x 20 x 28 inches
Weight: 100 pounds
​Internal ball return
​Abacus style scoring
​3.75 inch square legs
​Cross bar support
Half inch hollow rods with a chrome finish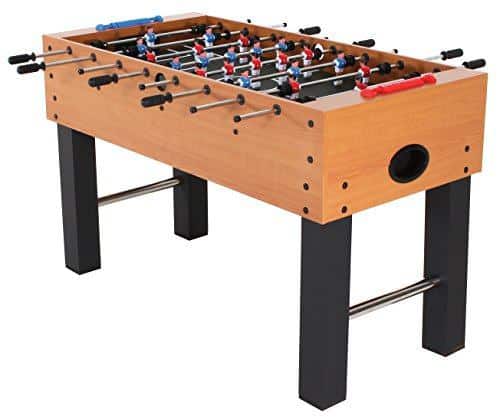 This particular foosball table comes in weighing 100 pounds, which is fairly heavy. The dimensions of the table are standard for at home and professional usage.
Additional Features
The playing field is made from a 3/16 inch MDF. MDF is often used for playing fields because it is resistant to warping. The table also features half inch hollow rods that have a chrome finish. The hollow rods are ideal for playing as they allow for faster turning. The chrome finish helps resist rusting.
This table also offers a leg cross bar with a chrome finish. This adds to the stability of the table. However, the table does not have leg levelers, which means you will need to find a flat surface to place the table on.
Game Play
This table is not the sturdiest foosball table available since it does not have levelers. However, it provides game play that is entertaining and engaging. The hollow rod will allow players to enjoy faster play. Overall, the table provides a satisfying game play experience for beginning users.
Aesthetics
The American Legend Charger foosball table offers a blend of well polished colors. The table will fit the aesthetics of any room. It is not gaudy in appearance, which means that you can place it in almost any room in your home without it drawing too much attention from your visitors.
Durability
Perhaps one of the most important features of any foosball table is its durability. Some adept players may be skeptical about this table when they find out the price of this table. However, the quality of this particular table is quite good for the price that it is sold at.
One prominent figure that is found in more expensive tables is the thickness of the boards. Most of the more expensive tables will have sides that are at least an inch thick. The American Legend Charger foosball table is only ⅝ inches thick.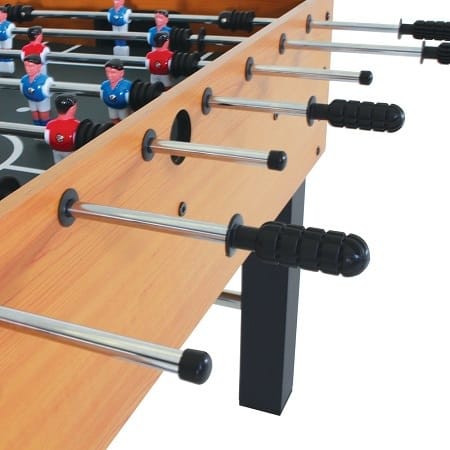 The charger is made of a pressed wood, which is more likely to warp than other types of wood. However, the materials used for this table are of high quality and warping has not been reported as a major issue with this particular table.
While lighter tables such as this one are known for not being able to hold up to intense play for long, this particular foosball table will withstand the test of time as long as it is taken care of properly.
Pros And Cons Of The American Legend Charger Foosball Table
As with any product that you purchase there are going to be good things and bad things to consider about this foosball table. Let's first look at some of the positive aspects of this table.
Pros:
Simple design makes it ideal for beginners and children
Affordable
​Attractive design
Internal ball return system
Overall, this is a decent design for beginning players. Now let's look at some of the negatives of this foosball table.
Cons:
Questionable quality
Durability
Not for skilled players
What Other Consumers Are Saying About This Foosball Table
There are currently 42 reviews about this foosball table on Amazon. The majority of the reviews of this foosball table are quite positive. However, there are a few complaints about how the product arrived to the consumer's home.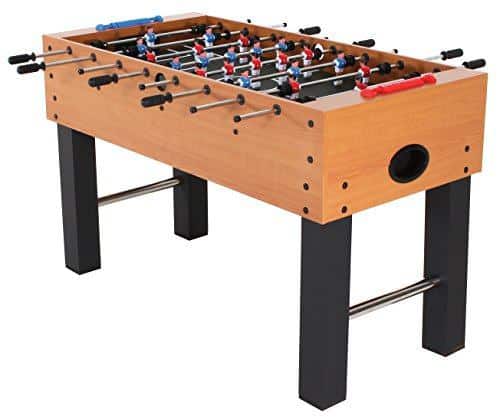 OUR RATING:
It is to be noted that the company that makes this foosball table did reach out to at least one of the customers and offer to discuss the issues they had with the table with them.
Prices pulled from the Amazon Product Advertising API on:
Product prices and availability are accurate as of the date/time indicated and are subject to change. Any price and availability information displayed on [relevant Amazon Site(s), as applicable] at the time of purchase will apply to the purchase of this product.
Conclusion
When it comes to choosing a foosball table that is within a certain price range, the American Legend Charger foosball table offers a good choice. This table is definitely designed for children and beginning players as it is not as sturdy as some of the other foosball tables on the market.
Overall, if you are looking for an affordable foosball table that is somewhat durable and has a decent design, this is a good option. If you have a little bit more to spend, you may want to consider one of the more expensive options that will last a bit longer.
Use the link below to view additional information and prices at Amazon.com. This is an affiliate link, which means I may receive, at no additional cost to you, a small commission if you make a purchase using this link.