When it comes to home entertainment there is more to it than sitting on the couch playing video games or watching television. Table games offer a great way for you and your family to get more active. Some of the most popular options for table games include air hockey, pool, and of course soccer.
If you have thought about investing in a soccer table chances are that you have become overwhelmed with the options that are available.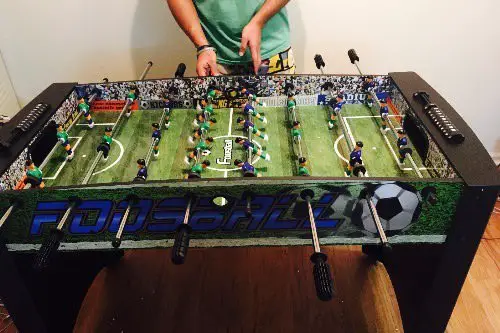 It is for this reason that I decided to take the knowledge that I gathered to write reviews about some of the soccer tables that are currently available. This review will cover the Hathaway Playoff Soccer table.
I have based this review on a thorough evaluation of the capabilities and features that this soccer table has to offer. Hopefully this review will help you make an informed decision about purchasing a soccer table for your home.
About Hathaway Playoff Soccer Table
Features
This table has a length of four feet, which is great for in home use. There are bigger tables available, but for most people a larger table will be more difficult to fit into your home, unless you have a designated game room that is quite spacious.
Since this table is of a smaller size it is very versatile and the smaller size does not impact the quality of entertainment that you will get out of this game. It is a lightweight table, which makes it easy to move with just two people.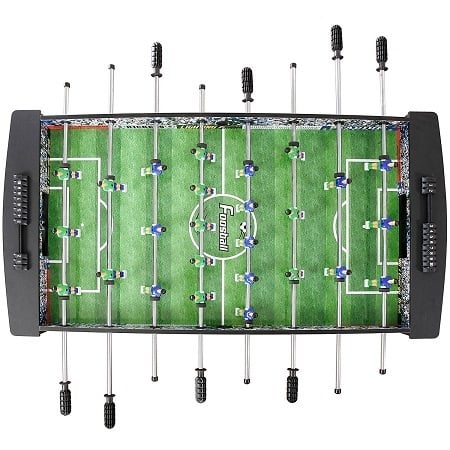 The table is made from a medium density fiberboard that is not the heaviest available, but is quite strong and solid. It does a good job of staying in place during game play and is resistant to serious impacts. The legs are L shaped, sturdy, and thick, which adds to the stability of the table.
Play Surface
The surface of the soccer table is smooth and even, which is important for this type of game. One of the fun features of the surface is that it uses grass graphics in order to cover of the board. This is a great solution and provides the table with a real playing feel.
Rods, Handles And Players
The rods of the Hathaway Playoff table are made of steel and very strong and durable. The chrome plating gives them a shinier texture and also helps protect against rust, which also improves the durability.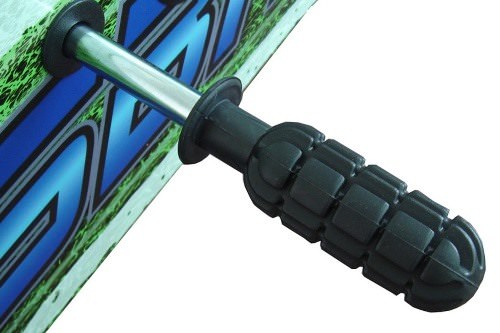 The handles are made from a durable rubber and are very ergonomic. They are not completely solid, so air will pass freely around them, which adds comfort during your play time.
The players are made using ABS, which makes them more strong and durable. This also helps with resistance to damage.
Who Is The Hathaway Playoff Foosball Table For?
This foosball table is a great choice for people of any age and for homes of any size. Both children and adults will be provided with hours of entertainment from this table. It is a bit tall, so smaller children will not be able to use the table as they will not be able to see the field in order to play.
One of the nice things about this particular foosball table is that you do not need to have a special game room in order to set it up in your apartment or home.
Pros And Cons Of The Hathaway Playoff Soccer Table
As with any product you purchase there are going to be good and bad aspects of it to consider. Let's first look at some of the positive aspects of this particular foosball table.
Pros
Design

: The graphics on the table are quite pretty and impressive.

Entertainment Value:

The even and smooth surface, comfortable handles, strong rods, and automatic return will allow you to play the game for hours without any issues.

​Versatility and Portability:

The table can easily be moved from one area of your home to another. You can also set it up in almost any of your home because of its smaller size.

Easy setup:

Simply follow the instructions provided by the manual and you will have this table set up in no time.

​Durability:

The table is well designed and is quite solid in construction. All of the components are quite strong and durable.
As mentioned, with the good there comes some bad. Now let's look at some of the negative aspects of this particular foosball table.
Cons
When the ball is hit with a lot of force it can fly out of the return area. While this can be an issue, it is not very common.
The table does not have any type of leveler. This means that you will need to find a surface that is perfectly flat to place the table on in order to ensure the highest quality of play.
What Others Say About This Table
There are currently almost 200 reviews of this particular soccer table on Amazon. The Hathaway playoff soccer table has an overall good rating and players all around the world are satisfied with it's performance.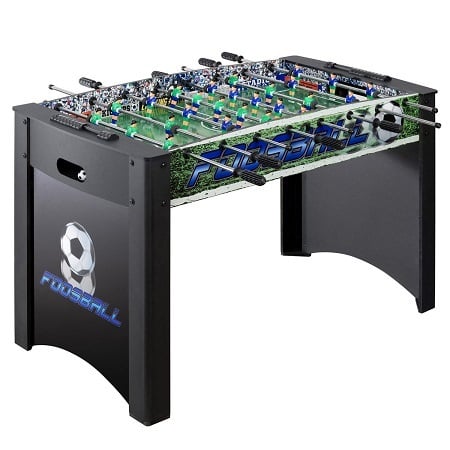 OUR RATING:
Most consumers who are looking for a beginning level table are quite happy with their purchase. One of the biggest complaints about this table is that it is only ideal for children to play with. There were also a few complaints about the parts being damaged during shipping.
Hathaway Playoff 4' Foosball Table, Soccer Game for Kids and Adults with Ergonomic Handles, Analog Scoring and Leg Levelers
DAZZLING DESIGN – Bring world-class excitement to your game room or office. The Playoff's bright, colorful graphics depict a thrilling soccer stadium filled with rabid fans. Realistic, ABS-molded players add to the exciting, immersive experience

PERFECT FOR FAMILIES – Kids will love the fast-paced play and high-gloss graphics. Adults will love its compact size and durable construction. The Playoff's ergonomic handles are great for all ages, and its analog counters keep scoring simple

SOLID AND SECURE – Quality, engineered wood construction guarantees long-lasting stability. Its sleek, steel rods provide smooth and stable play. And the integrated leg levelers are easy to adjust, ensuring an even playing field

MONEY BACK GUARANTEE - Your table comes with a 180-day manufacturer warranty. We promise that it will arrive damage-free with all necessary parts and accessories. Otherwise, we'll send replacement parts or an entirely new table at no cost to you

DIMENSIONS - Playing surface: 40" L x 22.75" W; Table dimensions: 48.5" L x 24" W x 32" H
Prices pulled from the Amazon Product Advertising API on:
Product prices and availability are accurate as of the date/time indicated and are subject to change. Any price and availability information displayed on [relevant Amazon Site(s), as applicable] at the time of purchase will apply to the purchase of this product.
Conclusion
Overall, the Hathaway Playoff Soccer table offers a great design and decent performance. This is a good quality table for the price. There are some minor drawbacks of this table, but if you are looking for a good source of entertainment for the family at a reasonable price, this table is a decent choice.
Use the link below to view additional information and prices at Amazon.com. This is an affiliate link, which means I may receive, at no additional cost to you, a small commission if you make a purchase using this link.