Having fun at home is important. Everyone needs a few entertainment options at their home besides television and video games. One way to provide a great source of entertainment for your friends and your family is to consider purchasing a table game.
Foosball is a great table game that will keep you active. You can practice on your own or play with your friends and family at any time. If you have ever played foosball at a bar or a friend's house, you already know how fun this game can be. Why not purchase a foosball table for your house or apartment? This is one of the best foosball tables on the market.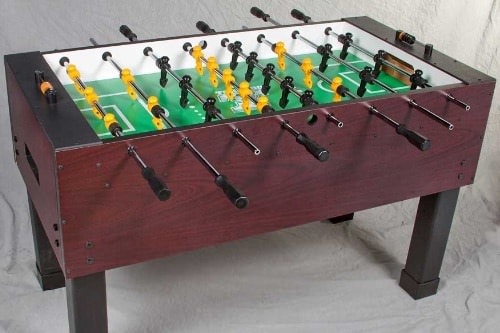 Personally, I really enjoy the game of foosball, which is why I decided to provide these reviews of some of the foosball tables that are available. This review will cover the Tornado Sport Foosball Table.
This review is based on an evaluation of the features and the capabilities of this particular foosball table. I hope that the review will provide you with the information that you need in order to make an informed decision about purchasing a foosball table for your home.
About The Tornado Sport Foosball Table
Specifications:
One inch thick cabinet
Height is adjustable and has boot levelers
​Black plastic handles
​End ball return
Made in the United States​
One year warranty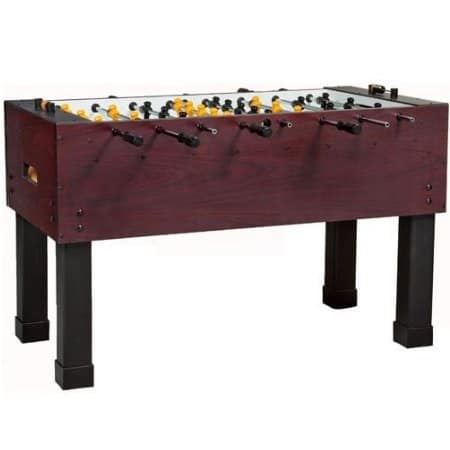 If you are in the market for a mid-level foosball table for your home, the Tornado Sport provides a great option. This table was not designed to be used by professional level players, but rather it is for those recreational players who just want to add a new element to their game room.
This is a decent quality table that comes at a lower price end than some of the other high end professional quality foosball tables on the market. If you do not have a large budget to spend, this table may just be the perfect choice to meet your particular needs.
Durability
This table is not flashy by any means, but it is made of high quality materials. The cabinet is one inch thick and provides a good amount of sturdiness and durability. It is made in the United States and the Tornado brand of foosball tables is known for being one of the best out there.
Durability is one of the main strengths of this table and you can count on it lasting for quite a long time.
Game Play
This is a heavy table that weighs nearly 200 pounds. This provides a great amount of stability. Even if play becomes a bit aggressive, you are not going to move this table. The legs have boot coverings and shims may be placed inside these in order to create a level playing surface.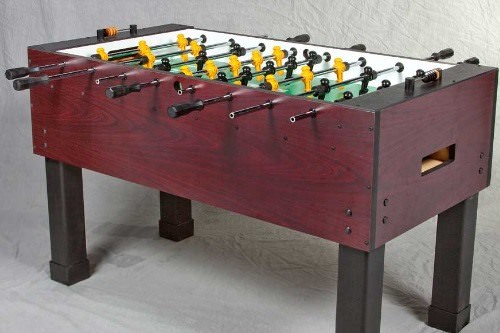 The table uses hollow steel rods, which create fast game play. Experienced players will enjoy this, while beginners will need to get used to the faster rods.
The Tornado Sport does not have counterbalanced players. This is a feature that most would like to see on a foosball player in this price range as counterbalanced players offer a smoother gameplay.
The ball returns are on the ends only, which makes retrieving the balls a bit inconvenient.
Aesthetics
This table has a traditional, but practical appearance. The surface is green and the players are black and yellow. The boots and leg levelers give the table a professional appearance. Overall, this is an attractive and sturdy table that will fit nicely in any game room.
Who Is This Table For?
This table is the perfect choice for children and other recreational players that do not want to spend a high dollar amount on a foosball table. The height of the table is adjustable, which makes it perfect for children as the table can be lowered so that they can reach it. You can easily adjust the height for anyone who is going to play.
Pros And Cons
It is important to look at the pros and cons of any purchase that you make that is this large. First, let's look at some of the positive features of this table.
Pros:
Sturdy
Durable
​High quality rods
Good aesthetics
Made in the United States
Cons:
Players are not counterweighted
Instructions to build are somewhat unclear
What Others Say About This Table
There are currently 39 reviews of the ​this foosball table on Amazon and the average rating is overwhelmingly positive.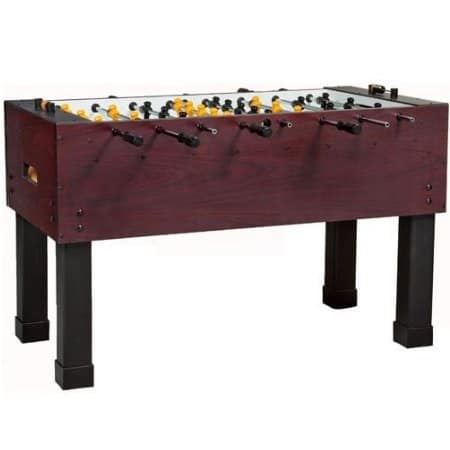 Most customers agree that this table is sturdy, offers excellent quality, the rods are smooth, and it is fun to play on.
The biggest complaint about this table is that the men are not counterbalanced. In fact, the lowest review of this product mentions the lack of counterbalanced men, but has no other complaints about the table.
Conclusion
The Tornado Sport Foosball table is not a professional foosball table, but it has a lot of great features that are perfect for the average recreational player. If you truly enjoy playing foosball and want to improve your overall game, this table or any other made by Tornado is a great choice.
Prices pulled from the Amazon Product Advertising API on:
Product prices and availability are accurate as of the date/time indicated and are subject to change. Any price and availability information displayed on [relevant Amazon Site(s), as applicable] at the time of purchase will apply to the purchase of this product.
Since Tornado Sport is a well-known brand of foosball table this means that you can expect to pay a bit more than you would for a lesser known brand of foosball table. One good thing about paying a bit more for a Tornado brand foosball table is that their customer is extremely helpful and any issues that come up will be resolved quickly.
Overall, you really cannot go wrong when you purchase a Tornado brand foosball table. However, if you are considering this you should note that the players are not counterweighted, which can be a problem for intermediate and experienced players who prefer a counterbalanced player.
Use the link below to view additional information and regular prices at Amazon.com. This is an affiliate link, which means I may receive, at no additional cost to you, a small commission if  you make a purchase using this link.