This post will contain Affiliate Links
I've rounded up all the great deals I could find, normally there isn't much in the way of foosball table deals, but I'll post whatever I can find. I will update when I find any deals.
Woah an actually Foosball table deal..
Hurry now and get the Best Price of the year on our Pro Foosball Tables. Warrior, the official table of the Professional Foosball Tour, is a top caliber, durable, player friendly table that is perfect for your home or office. In addition, unlike most tables, we will have your table delivered by Fed-ex to your doorstep. Includes split bearings to create smoother and more powerful shots, swivel rubber feet to make levelling on any surface a breeze, and a new improved arcade style ball return system. Easy Assembly, Counterbalanced foosball men, and Rod Guards for safety make this a must have.

Avoid the Christmas Rush/Shipping delays and order yours today! And make sure to use

warriortablesoccer.com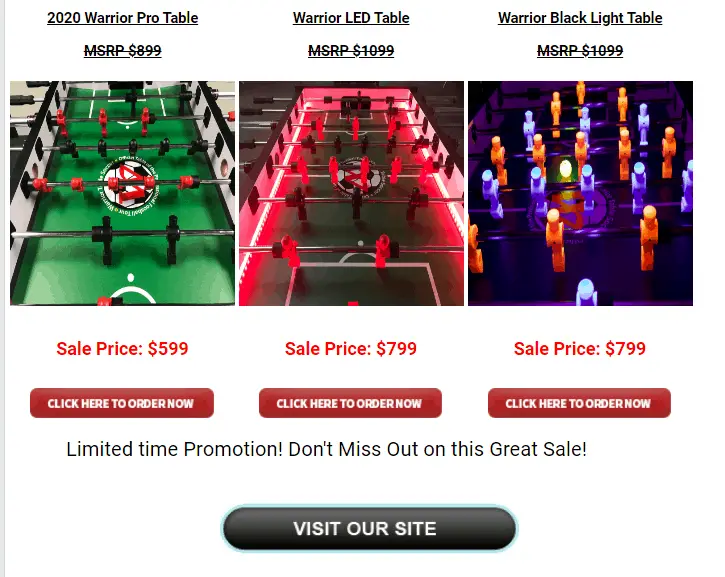 VIP Foosball Xmas grab bags, valued over $400, for only 59.95. First come first serve. No two gift portfolios are the same. They will include items like Pro jackets, shirts, Foosball jewlery, collectables, wraps, and much much more…..   SATISFACTION GURENTEED! When you open this package you are gonna feel like a kid in a candy store. All you do is tell us who the foosball items are for, and we will do our best to send those type items. ( adult, man, women, kids, and shirt jacket sizes ) This will handle your xmas shopping for the foosers you know…   including yourself!
don't delay call now, these will go fast! ( max 2 per household )
http://www.warriortablesoccer.com/cmd.php?pid=5f8bac1941ea4073ad16ae71426915c7 
If you find any other deals let me know!