When it comes to table games, you will find few that can hope to match the casual fun that you can have with friends when you're playing foosball. Unlike billiards, table tennis or air hockey, foosball is more welcoming to additional players, and that means that it can be more fun at parties and other events.
If you are hosting a party or some sort of gathering sometime soon, you may be interested in how you can integrate your foosball table into the event seamlessly. One of the best ways to have a little bit more fun with foosball during your party is to incorporate drinking games that involve it.
There are a few different foosball drinking games that we'll be taking a look at, ranging from more traditional options to experimental options as well. Each of these games depends on your foosball skill level and whether or not you can handle your alcohol, so let's get right into them.
The Original Drinking Game
If you're looking for something new that is relatively simple and easy to remember, then this is the best drinking game for you. The rules of the original foosball drinking game are quite simple, as they are based on goals, as you would imagine in most other basic drinking games.
First off, whenever someone is scored on by a team's attacking line, they take a single shot. However, if you get scored on by your opponent's defenders or goalie, then you have to take two shots. Finally, if you somehow manage to score on yourself, you will also have to drink two shots.
Foosball Scramble Drinking Game
If you prefer a little bit of chaos in your drinking games, then you may prefer this one. Keep in mind that the scramble drinking game is best reserved for foosball parties where you have a larger number of participants. While this drinking game can be played by two people, it gets better with more of them.
All you have to do is place all of the balls that you have on the table, and then both teams compete to see who can score the most. Before the match starts, you will want to set up a row of shots that the losing side will have to drink, and you can imagine how the rest of the game progresses.
Mini Foosball Table Drinking Game
The final set of foosball rules for a drinking game involves a mini foosball table, and it may be a better choice for smaller parties. With a mini table, think of the drinking game as a scaled-down version of the original game, where you take a swig of beer every time you score a goal on you opponent.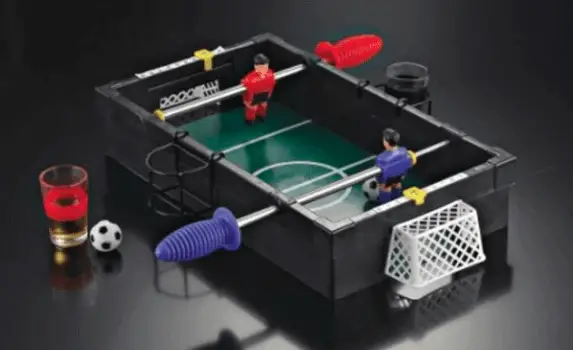 While this may not have as much of an effect as some of the other games on this list, you will find that it makes for the best pre-gaming activity before heading out to bars or clubs.
Conclusion
As you can see, you can have a lot of fun with foosball drinking games. We hope that this list has provided you with a game that you and your friends can have fun with. Feel free to share this post with friends. If that all fails you can always go back to beer pong.